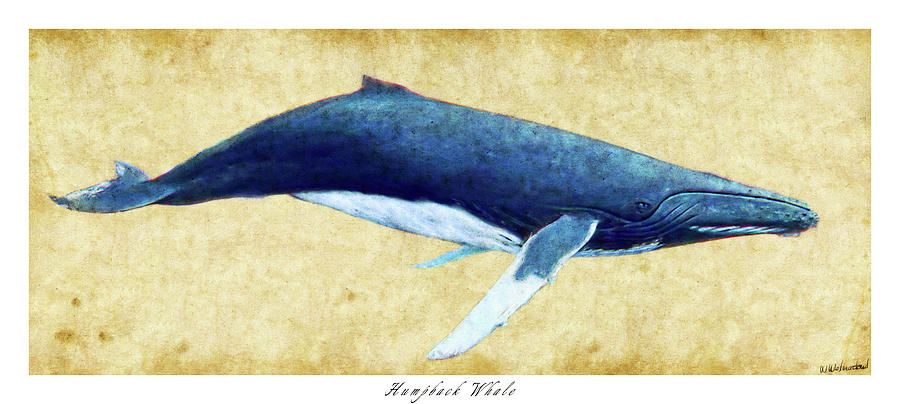 Title
Humpback Whale painting - framed
Artist
Weston Westmoreland
Medium
Photograph - Photograph
Description
Humpback Whale painting. Framed version.

Cannot help to love this creature, uh? So big, yet so peaceful, so bulky, yet so nimble, so rough looking, yet so delicate in its singing...

I hope I can see one roaming free some day.

The humpback whale (Megaptera novaeangliae) is one of the larger rorqual species. 40 to 52 ft long and about 80,000 lb in weight, the humpback has an easily recognizable shape, with particularly long fins and a knobbly head. A charismatic animal, known for the way it jumps out of the water or slaps the water with its tail and fins, they also produce complex songs of 10 to 20 minutes, which they repeat for hours at a time, of an uncannily nostalgic tone. These supposed calls are believed to cross the oceans and communicate whales hundreds of miles away.

Found in oceans and seas around the world, humpbacks migrate 16,000 miles every year. They feed only in summer, in polar waters, and move to tropical and subtropical waters to breed and give birth in the winter, while they fast and live off their reserves. Their mainly feed on krill and small fish. Humpbacks master several feeding methods, including the bubble net technique, which they often practice in groups.

Regretfully, the humpback whale was and is a target for the whaling industry and was hunted to the brink of extinction before a moratorium was introduced in 1966. While stocks have since partially recovered, entanglement in fishing gear, collisions with ships, and noise pollution continue to impact the 80,000 humpbacks worldwide.

There is an unframed version of this painting here:
http://fineartamerica.com/featured/humpback-whale-painting-weston-westmoreland.html


You can learn more about what drives me in my blog:

http://inspiringthoughtsandimages.com/

Weston Westmoreland.

Uploaded
March 15th, 2015
Statistics
Viewed 265 Times - Last Visitor from Fairfield, CT on 01/31/2023 at 5:55 AM